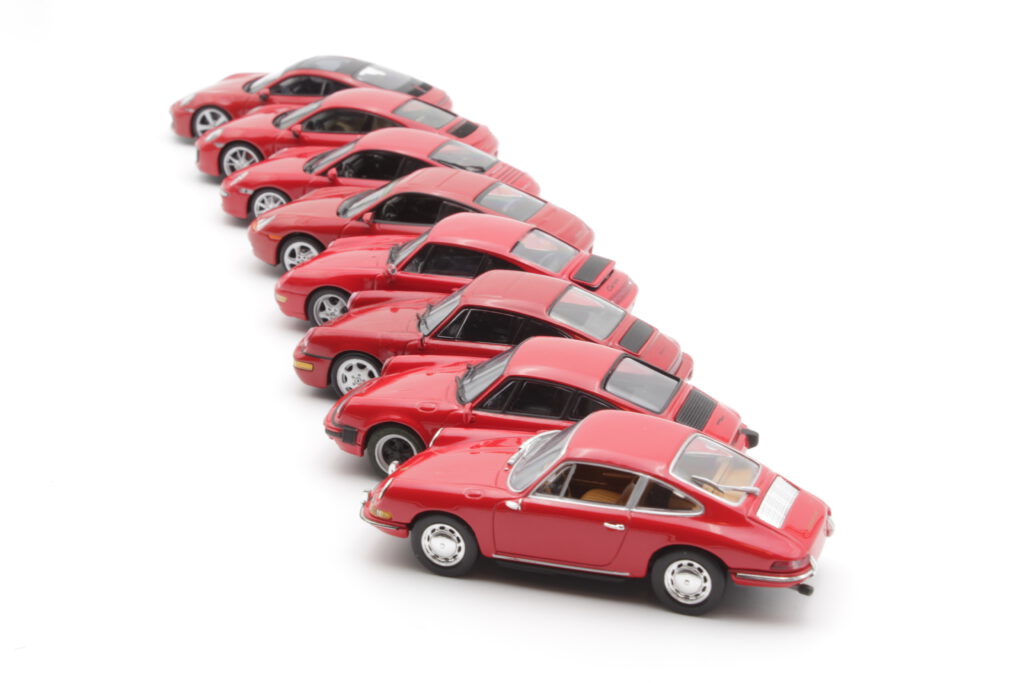 Wie, wat, waarom en hoe. Hieronder leest u het allemaal.
Om te beginnen: de modelauto's uit mijn verzameling zijn niet te koop!

Ik ben een fanatieke verzamelaar van modelauto's. De nadruk ligt op Porsche 356 en 911 en luchtgekoelde Volkswagens. Een mooie cabriolet voeg ik ook graag aan mijn collectie toe.
Om net die ene modelauto te bemachtigen, moet ik soms een (deel van) een verzameling kopen. Auto's die niet in mijn verzameling passen of dubbel zijn, bied ik te koop aan. Ook worden exemplaren uit mijn eigen verzameling verkocht.
Ik weet als verzamelaar wat u van een modelauto verwacht. Een gloednieuwe modelauto zult u nooit bij mij tegenkomen. Alle auto's komen van verzamelaars en hebben in een verzameling gestaan, het zijn prachtige en bijzondere exemplaren die ondanks hun leeftijd als nieuw zijn.
Voor alle modelauto's geldt dat ze in een perfecte staat verkeren en dat de originele verpakkingen doorgaans aanwezig zijn. Vaak zijn de vitrines nog nooit geopend en dat wil ik zo houden. Foto's zijn beschikbaar op aanvraag.
Een modelauto kopen?
Vindt u dat ene exemplaar op mijn website? Dan is het sturen van een e-mail (4xn@home.nl) al voldoende om in contact te komen. Ik kan u verdere informatie over de modelauto geven indien gewenst en we kunnen de details voor de verkoop bespreken.
Hier is een link naar Ebay voor foto's van de modelauto's.
Ik zorg voor een goede verpakking (graag de auto extra vastgezet op de voetplaat) en verzend uitsluitend als aangetekend (en verzekerd!) postpakket.
De betaling kan verlopen door overboeking op mijn IBAN of met Paypal.

Hans Nouwens
Who, what, why and how. You can read it all below.
To start with: the model cars in my collection are not for sale!
I am an avid collector of model cars. The emphasis is on Porsche 356 and 911 and air-cooled Volkswagens. I also like to add a beautiful convertible to my collection.
In order to acquire just that one model car, I sometimes have to buy a (part of) a collection. I offer for sale cars that do not fit in my collection or are duplicates. Or sometimes a model car from my own collection.
As a collector I know what you expect from a model car. You will never come across a brand new model car with me. All cars come from collectors and have been in a collection before. Very regularly there are beautiful and special model cars that are like new despite their age.
All model cars must be in perfect condition and the original packaging is usually present. Often the showcases have never been opened and I want to keep it that way. Photos are available upon request.
Buy a model car?
Can you find that one model car you are looking for on my website? Then sending an e-mail (4xn@home.nl) ) is enough to get in touch. I can give you further information about the model car if you wish and we can discuss the details before the sale.
Here is a link to Ebay for pictures of the modelcars.
I will provide good packaging (the car extra secured on the footplate) and only send as registered (and insured!) post package. Payment can be made by bank transfer to my IBAN or Paypal.
Porsche 356:
Porsche 356 Stuttgart Coupe MiniChamps 400065020
Porsche 356 C coupé MiniChamps 430062327
Porsche 356 C Cabriolet MiniChamps 430062335
Porsche 356 C Cabriolet Rijkspolitie MiniChamps 430062390


Porsche 356 Stuttgart Cabriolet MiniChamps 400065030
Porsche 356 C coupé MiniChamps 430062320
Porsche 356 C coupé MiniChamps 430062321 
Porsche 911 F-serie:
Porsche 911 MiniChamps 430067132
Porsche 911 Targa MiniChamps 400061160


Porsche 911 Carrera 2.7 RS MiniChamps 400061162
Porsche 911 Carrera 911 RS EBBRO 262
Porsche 911 G-serie:

Porsche 911 Carrera Speedster MiniChamps 430066130
Porsche 911 SC Cabriolet MiniChamps 430062034
Porsche 911 Carrera Targa MiniChamps 400061260


Porsche 911 Carrera RS 3.0 MiniChamps 400063121
Porsche 911 Turbo MiniChamps 430069006
Porsche 911 SC Cabriolet MiniChamps WAP02003797
Porsche 911 (964):

Porsche 911 Turbo 3.3 MiniChamps 430069109


Porsche 911 Cabriolet MiniChamps WAP020SET06
Porsche 911 (993):

Porsche 911 (993) turbo Schuco 04113
Porsche 911 (993) targa MiniChamps WAP020013


Porsche 911 (993) turbo Schuco 04112
Porsche 911 (996):
Porsche 911 (996-II) turbo MiniChamps WAP02006410Y
Porsche 911 (996-II) Carrera 4S Minichamps WAP02007512


Porsche 911 (996-II) 4S Cabriolet MiniChamps 400062832
Porsche 991 (996-II) GT2 MiniChamps WAP02007311
Porsche 911 (997):
Porsche 911 (997-II) GT2 RS MiniChamps 400069408
Porsche 911 (997-I) turbo MiniChamps WAP02013016
Porsche 911 (997-II) GT3 RS MiniChamps WAP02001719
Porsche 911 (997-I) Targa MiniChamps WAP02016017


Porsche 911 (997-II) GT2 RS MiniChamps 400069406
Porsche 911 (997-II) GT3 RS MiniChamps WAP0201217
Porsche 911 (997-I) Carrera 4S MiniChamps WAP02010116
Porsche 911 (997-I) Carrera S MiniChamps WAP02011715
Porsche 911 (991):
Porsche 911 (991-II) GT2 RS Weissach Paket MiniChamps 410067221
Porsche 911 (991-II) Turbo S Cartima CA04316068


Porsche 911 (991-II) GT3 MiniChamps WAP0201490H
Volkswagen:
VW 1303 LS cabriolet MiniChamps 430055135
VW 1200 oval window MiniChamps 430052101
VW Hebmüller Cabrio MiniChamps 430052132
VW 1200 Cabriolet MiniChamps 430052030


VW Karmman Ghia Coupé MiniChamps 5000
VW 1302 Cabriolet MiniChamps 430055034
Volkswagen 1600 TL Fastback MiniChamps 430055320
Volkswagen Golf IV Cabriolet MiniChamps 430058332